Certification of Aeronautical Parts & Components in Europe
How can aircraft designers, manufacturers, maintainers and suppliers get their products and parts approved by the certification authority?
Free Publication Download
Get 30 pages of exclusive content for Free!
These are the topics covered by our white paper: "An Introduction to the Certification Process for Aeronautical Parts & Components in Europe". A thorough guide to certifying systems and components through the EU regulatory system.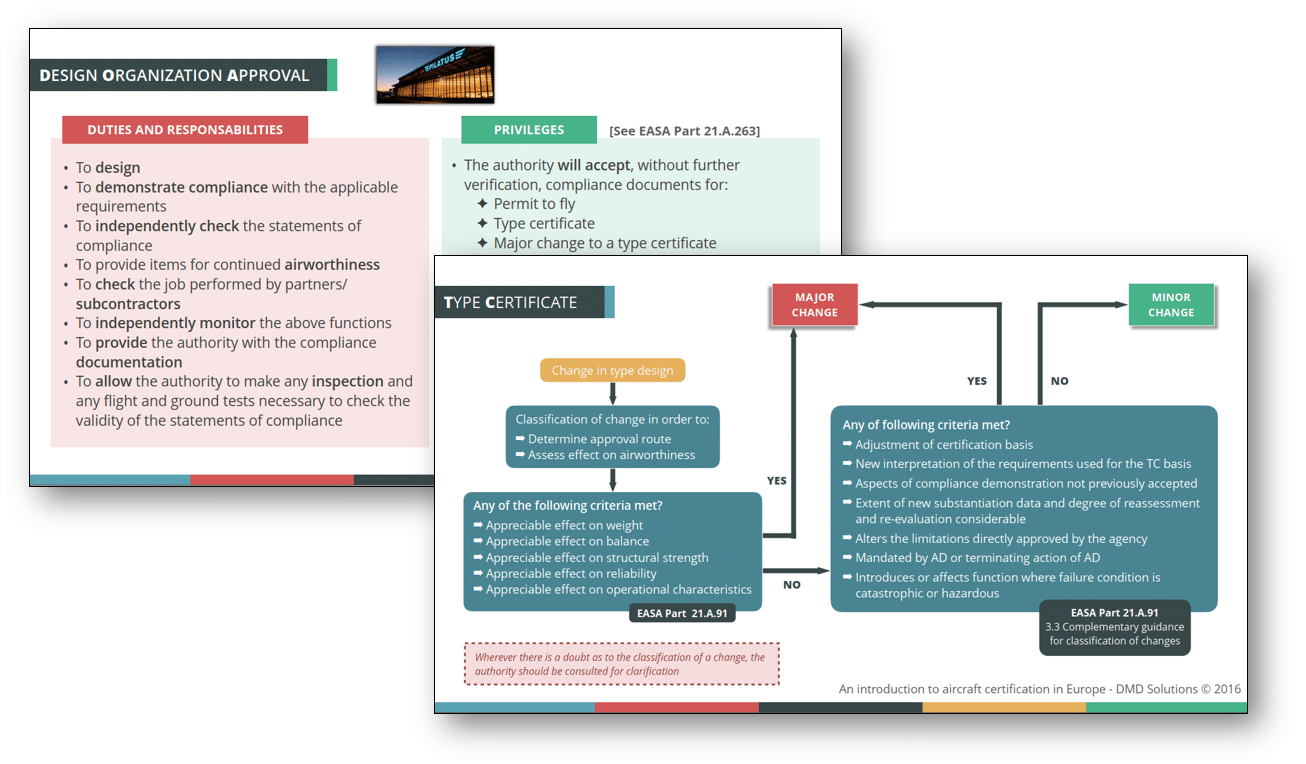 Systems and components certification in the EU
Place your aeronautic component in the European market
All parts and appliances installed on certificated products in the European market (aircraft, engines, and propellers) must be approved by the relevant certification entity. Our publication will help you navigate the regulatory structure with confidence.
To be or not to be a POA, that is the question
Approval for production can be obtained by production under a Production Organization Approval or without it, according to EASA Part 21. What is the best route to pursue for manufacturing companies?
Design with a DOA or build an ETSO part
Manufacturers can partner up with Design Organization Approval companies to build a specific design or fly free by building a European Technical Standard Order. However, if the ETSO article is a piece of equipment specifically required for airworthiness, the responsibility for the airworthiness of the part falls on the manufacturer. 
Who is this publication addressed to?
OEM Manufacturers
Design and manufacture companies for aircraft and aircraft components, parts or appliances who seek to certify newly designed products. Avionics, mechanical systems, composite parts, 3D printed elements.
Aircraft, Rotorcraft and UAVs systems suppliers
Companies that manufacture airborne elements and who sell to companies in the aerospace industry who require a high level of quality certification.
3D printing companies
Providers of 3D printing services who would like to enter the aeronautics industry and supply 3D printed parts to aircraft, rotorcraft or UAVs manufacturers.
Worldwide Aircraft & Rotorcraft manufacturers
Aerospace players in the global market who seek a better understanding of the supply chain certification standards set by the EU and certification entities linked to EASA.
Free Publication Download
Get 30 pages of exclusive content for Free!

Take a look at our recent news
DEVELOP REQUIREMENTS FOR AIRCRAFT SYSTEMSRequirements for aircraft system development are the essential building blocks that define the functionality, performance, safety, and reliability of aviation systems. These requirements serve as the base for the design,...
read more
In the safety-critical aerospace industry, the development of aircraft systems requires a meticulous approach. The requirements provide the common basis that guides the design and operation of systems, thus the well-defined System Requirement Document or System...
read more
Carrer d'Àlaba 140, 5-3, Barcelona 08018, Spain
(+34) 633 259 805
(+41) 78 943 14 34