FRACAS (Failure Reporting, Analysis, and Corrective Action System) is one of the most extended methodologies for reliability analysis in the aerospace industry. FRACAS provides a structured process for the calculation of reliability parameters such as the Mean Time Between Failures based on real operation data of the system. FRACAS is an essential tool for the whole life cycle span, from prototyping to disposal. It is not only an engineering tool to gain knowledge on system behaviour but also a mandatory requirement for Type Certificate Holders as per EASA Part 21. The aim of a failure reporting system is to plan, implement and track corrective actions in response to the failures under analysis. A structured analysis of failure reports allows for the detection of occurrences that may threaten the safety of the aircraft and which must be reported by TCHs to the certifying authorities.
However, it is often not simple for TCHs (most usually airborne products manufacturing companies referred to as OEMs) to collect and process all the failure data required to achieve meaningful conclusions. FRACAS is a challenging process that demands commitment by different parties and collaboration between them. Failure detection and reporting tasks usually fall in the hands of operators and maintainers, while it's manufacturers who perceive the benefit and necessity of collecting the data in a structured process. This entails complex organisation interactions between different actors linked to a product. Consequently, implementing a FRACAS process must be a top-down approach with enthusiastic management involvement to allow the required alliances between each party. It's very much like establishing quality values as a company culture: everyone must understand and share the benefits of the final purpose or no dice.
What benefits does FRACAS bring?
The benefits of effective implementation of a FRACAS process extend beyond the strict compliance of EASA rules. Correct usage of this system can supply invaluable input to design teams, improve quality and reduce life cycle costs. For each department involved, we are able to highlight beneficial outcomes that will impact the whole OEM organisation and the overall life of the system's users and maintainers.
Procurement
Through the FRACAS outputs, Procurement can monitor the MTBF (Mean Time Between Failure) of a part. In the case of a non-performing unit (MTBF<GMTBF), a modification of the defective product and/or contractual benefits may be demanded by the OEM to the part supplier.
Example of immediate ROI: identification of non-performing unit triggered a contractual clause which allowed for a 3% discount on next batches leading to 75'000 eur savings in 6 months
Integrated Logistic Support
According to supplier estimations of part reliability, Integrated Logistics Support department makes a Spare Parts plan which collects the needs of spares stock. The plan can be updated and re-adapted to the real needs according to the outputs of FRACAS (if some part is failing less often than expected or above guaranteed values). Re-adaption based on correctly processed field data has the potential to bring in substantial savings for both OEMs and maintenance companies.
Management
Valuable data is essential to make good decisions. A structured approach to FRACAS data can provide insights such as the Top Ten Reliability Report, which identifies the most critical items based on a set of defined criteria (e.g. lowest ratio MTBF/GMBTF, high NFF, high numbers of removals). FRACAS data provides guidance and priority for management decisions. Also, FRACAS is the main source of input for an efficient Reliability Review Board in which problematic items/systems are discussed and the effectiveness of CAs is checked.
Quality
Quality can establish reliability-related targets and use them as performance indicators (e.g. NFF maximum allowed level). With FRACAS, they can trace all root analysis of the defect and detect possible process errors. These errors could be provoking unnecessary maintenance tasks, which can be avoided bringing additional savings for OEMs and their customers.
Example of medium-term ROI: high NFF alarm lead to discover a process error in the maintenance manual which was causing 20'000 euros of unnecessary maintenance tasks per year
Airworthiness
When a particularly significant hazard occurs, the certifying agency expects to be advised immediately by an initial report and a full written report within 72 hours. Regular tracking and analysis of failure data facilitate the work of reliability and safety engineers in the event of an occurrence requiring immediate reporting.
Design
In the design phase, the reliability parameters such as PMTBF, PMTBUR, etc. are established. In the case of non-compliance with expected values as per requirements or design goals, the system engineer could identify the root cause and plan corrective actions that improve the design. Also, RAMS analysis (FTA, FMEA, …) for which Reliability Predictions are hard to estimate can be updated with field data. Reliability data extracted from an industry-standard FRACAS process is accepted as effective substantiation of Certification Requirements. The same applies to updated Maintenance Intervals, which can be relaxed to provide lower life cycle costs for operators when data from FRACAS indicates a design significantly more reliable than theoretically expected.
Best practices for an effective implementation
Setting up the whole FRACAS process, from failure reporting to output data distribution brings on some challenges mainly related to the structures of the organisation involved and the treatment of sensitive data.
During the implementation of FRACAS, the higher is the number of involved parties, the more difficulties will arise. For successful FRACAS, all of them must understand their role and collaborate actively. These roles must be agreed before the implementation and each of them must establish their goals to encourage their commitment. It is important also to define the interactions between the parties and keep good communication.
In the Failure Reporting step, it could be difficult to gather failure data from the customers. This lack of data could decrease the accuracy of the analysis. The data tracking is key to get efficient FRACAS and reliable outputs, so to improve it, several actions can be taken:
Share with the customer teams the importance and the benefits of FRACAS. The customer will collaborate in order to get higher-quality products.
It is crucial to ease the reporting of the defects and demand only the essential data that will influence the desired outputs. If the reporting process is complex, the commitment of the customer will decrease over time.
Also, the supplier must provide technical detail on the investigations performed on defective parts. The analysis and corrective actions applied must be sent in a report and included in FRACAS. These reports must be agreed in the procurement contract, stating which reliability parameters (MTBF, MTBUR, etc.) will be considered and analysed. Demand technical rigour to suppliers.
Get feedback from all the involved parties and try to adjust FRACAS to work for all of them. 
Revise the unclosed reports and take actions identifying the steps that are not working properly in the process.
The software used can be decisive in the process. A poor performing program can result in a lack of productivity. There are specialized software tools tailored for FRACAS that can provide a good interface and customized analysis for the users with high performance.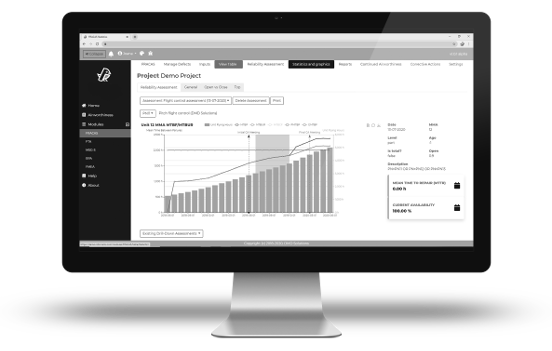 Effective implementation of FRACAS can substantially improve the quality and safety of airborne products. Besides, the return on investment is almost guaranteed in the short to medium term. Even if starting and maintaining a FRACAS process is challenging, barriers to an efficient implementation can be overcome by considering the critical points where the FRACAS process tends to get stuck and lose effectiveness. 
Typically, a software tool is used for supporting the FRACAS process, from failure reporting to reliability parameters calculation. Many companies start humble by collecting data in spreadsheets or generic databases, which soon become hard to manage and provide little assurance for data integrity and user management. A specialised software tool is most often the best solution, even though not always affordable. At DMD Solutions we have developed a highly efficient FRACAS software tool that can support smooth implementation of the FRACAS process at a highly competitive price. If you'd like to be among the first to see it working live, join the open demo scheduled for Wednesday 16th. 
Lovejinder Singh has a bachelor's in Air Navigation and a Master's Degree in Aerospace Engineering (Major in Vehicles) from the Polytechnic University of Catalonia. He is currently working in DMD Solutions focused on the sectors of Reliability (FRACAS, RPA, FMEA) and Maintainability (MSG-3, AMM). His thesis verses on Predictive Maintenance Deep Learning methodologies.